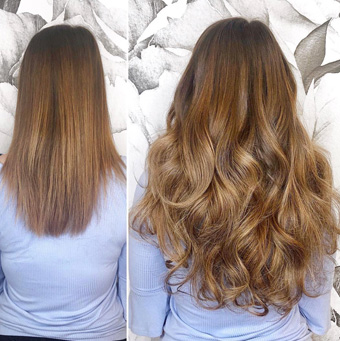 Hair Extensions are the seamless solution if you just want to add different effects to your look. Our supplier, Global Best Beauty (GBB), offers the best human hair extensions in the world – GBB Fusion Hair Extensions. With their beautiful and high quality 100% Remy human hair extensions, there is no need to wait years for your hair to grow to achieve that gorgeous look you have always wanted.
Global Best Beauty is one of the leading suppliers of high quality Tape Extensions, Seamless Tape On, I-Tip, Fusion, weft, Beaded Weft and Clip-on Hair Extensions in Canada and the USA. They offer a variety of choices, great reputation, and the latest techniques on the market.
WHAT ARE FUSION EXTENSIONS?
(AKA U-TIP OR HOT FUSION HAIR EXTENSIONS)
GBB Fusion hair extensions are permanently incorporated into your hair using heat tongs and wax. The method is also called hot fusion, nail hair extensions, keratin strands, wax extensions, keratin extensions, and I or U-tip extensions. The extension lasts 3-6 months.
Bonds are attached to the hair with keratin, which is connected using heat tongs or an ultrasonic connector. One advantage of bonding extensions is that they last a long time. They only have to be renewed every four to six months. To remove the bonding extensions, the connections must first be broken open with bonding forceps for extensions. The keratin bonding can be easily removed with a special bonding solvent. The liquid makes the keratin brittle and the bonds soft to remove the strands of hair from your hair.